Christopher L. Haas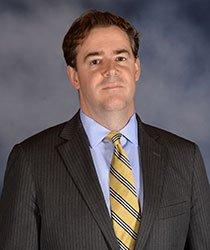 Attorney Christopher L. Haas began his legal career in 1997 clerking for Judge's John Roe and Stephen Pemberton in the 13th Judicial Circuit of Illinois. While clerking for these reputed Judges, Mr. Haas performed extensive research, attended hearings and trials, and prepared legal memoranda for virtually all types of legal matters within the jurisdiction of the Circuit Courts, including real estate and other contract matters, probate and estate matters, torts, family law, worker's compensation appeals and criminal matters. It is there Mr. Haas learned his way around the courtroom and the court system and first witnessed the wisdom, efficiency, and necessity of resolution-minded judges and attorneys—an approach he has carried with him and employed throughout his career in both the public and private sectors.
Mr. Haas went on to clerk for Nicolosi & Associates, a Rockford law firm concentrating in municipal law, real estate development and commercial litigation and transactions. While at Nicolosi & Associates, Mr. Haas primarily worked for partner, Paul Nicolosi (now a partner at Hinshaw and Culbertson and President of Hinshaw Consulting Group), and David Kurlinkis (now Winnebago County Deputy State's Attorney and Chief of Staff). Once again he gained valuable insights into the workings of many areas of the law and more valuable courtroom and transactional experience.
Mr. Haas intended to return to his home state of Wisconsin to practice law upon his graduation from law school, however, having met his lovely wife in law school, he elected to stay in Illinois—and, as they say, the rest is history. Mr. Haas cancelled his registration for the Wisconsin Bar Exam and registered for the Illinois Bar Exam in 1999, while continuing his work for Nicolosi & Associates. Upon passing the Bar Exam, Mr. Haas increased his role at the firm, handling complex commercial litigation and high volume transactions for Prudential Relocation Services.
Having settled with his wife in the Fox Valley area Mr. Haas eventually sought employment in the Western Suburbs to substantially shorten his commute. For the ensuing years he continued honing his legal skills working for some of the finest firms and attorneys in the area. He was an associate with Clingen, Callow, Wolfe & McLean, where he worked in the areas commercial transactions, business sipute resolution, commercial litigation. To gain further litigation experience, he also worked at Mulherin, Rehfeldt, and Varchetto, concentrating in the areas of attorney and medical malpractice defense. He later worked for John Cooney & Associates, a firm focusing on intellectual property, contract litigation and residential and commercial transactions.
Prior to opening the Law Offices of Christopher Haas, Chris had obtained a decade's worth of invaluable courtroom and transactional legal experience working with many of the finest attorneys in Northern Illinois. Since the firms inception Chris has strived to apply all that he has learned from his many fine mentors and bring high level of problem solving professionalism and practical results to his clients. His hundreds of satisfied clients are a testament to the skill and abilities he has acquired working for the some of the best. Throughout his career in private practice Chris has applied these skills to successfully resolve hundreds, perhaps thousands, of disputes of all kinds, through negotiation and/or litigation, and closed hundreds of transactions of all types from business sales, contract negotiations, commercial and residential real estate transactions, to land deals, short sales, foreclosures, and evictions in both the public and private sector. He puts this experience to work for every client he serves.
In response to growing demand for their services in the Fox Valley area Chris joined forces with friend and law school classmate Brian Banahan to form Banahan & Haas in 2014. The firm continues to thrive and serve clients throughout Chicagoland and the Western Suburbs.
Practice Areas:
Bar Admissions:
Education:
Northern Illinois University College of Law, DeKalb, IL, 1998
University of Wisconsin, Eau Claire, 1994

B.A., Economics, Political Science
Professional Associations and Memberships:
DuPage County Bar Association
Illinois State Bar Association
Circuit Court of 13th Judicial Circuit, Ogle County, Judicial Law Clerk
Publications:
A Primer on Short Sales, Illinois Department of Financial and Professional Regulation CE Accredited
Past Employment Positions:
Mulherin Rehfeldt & Varchetto
John Cooney & Associates
Law Office of Christopher L. Haas